CHIROPRACTOR
Mobile AL
Welcome to Discover Chiropractic Center located in Mobile. Chiropractic is one of the most amazing healthcare professions, but very few people understand what it's all about. This article is here to help you gain a basic understanding of how our Mobile chiropractors can help you and your family.
Chiropractor Mobile AL
Thank you for your interest in our clinic and in your quest in choosing a chiropractor in the Mobile, AL area.   I have been a chiropractor in Mobile, AL for nearly 30 years and in the same location here at 1412 Dauphin St.  I want to take a few minutes to help explain to you what sets out office apart from the rest of the chiropractic offices in Mobile.  To give you an idea of just where our patients come from, most come from the Mobile, AL community, but we do get clients from as far away as Jackson, AL., Fairhope, and from Biloxi, MS.
I started my practice here as a  Mobile  AL  chiropractor after working as an associate doctor in Dothan, AL., and Panama City, FL.  Our office is in midtown and I chose this location because I grew up in a larger city, St. Petersburg, FL., so I was use to being near the beaches and the perks of living in a larger city.  So, being a Mobile AL chiropractor made a lot of sense to me because it was similar atmosphere I enjoyed living in in the first place.
As I mentioned earlier, we are in the midtown area, near the corner of Dauphin Street and Lafayette Street at the location of 1412 Dauphin St., in Mobile, AL.   We are located directly beside McGill-Toolen Catholic High School on Dauphin Street in the Old Dauphin Way Historic District.  Patients usually drive to see us from downtown Mobile and the surrounding areas of Mobile such as Prichard, Spring Hill, DIP, and even Theodore, AL.
In closing, you have been given many reasons and examples on why Discover Chiropractic Center in Mobile AL may be the perfect fit for you.  There are many chiropractic offices in Mobile, AL to choose from.  I would just like to say, that picking a chiropractic office in Mobile AL doesn't mean always to just choose the office that is closer.  That probably won't work.  See what office is relaxing, and efficient with your time and your money.  I would say that any office who tries to lure you in to a contract you should avoid, no matter how many people over paid to be there.
A CHIROPRACTIC TEAM YOU CAN TRUST
At Discover Chiropractic Center our chiropractic team is ready to meet with you to discuss your needs. We will help to design a program that is right for you. We look forward to meeting you.
HOW TO FIND A CHIROPRACTOR IN Mobile
This guide will help you find the best chiropractic clinic in Mobile for you. When most people in Mobile decide they need a chiropractor, they end up doing a search and just picking someone at the top.
Being at the top of Google for the chiropractic search does not necessarily mean they are the best chiropractor for you. Follow the steps below to make sure you are picking the right chiropractor for you.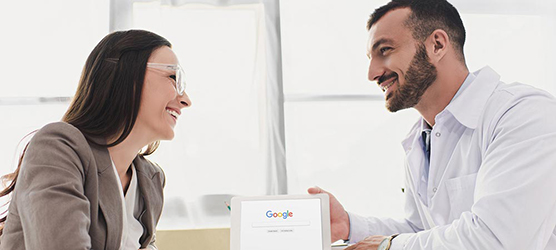 Time Needed: 5 minutes
Total Cost: USD 0.00
4 EASY STEPS TO FINDING A CHIROPRACTOR IN Mobile
Step 1: Open up a Google search
You will want to type one of the following in the search bar:
Chiropractor Mobile
Chiropractor 36604
Chiropractor near me
Best chiropractor in Mobile

Step 2: Review Their Website
The best chiropractors in Mobile put as much care into their website as they do into the rest of their office. By reviewing their website you will get a good feel for the doctor and if they are right for you.

Step 3: Check Out Their Reviews
Check out the Google Business Page of a chiropractic clinic you are thinking about visiting. It is easy for someone to say they are great, it's a different story to get other people to say great things about you.

Step 4: Give The Office A Call
Now that you have a basic understanding of what the office is about. Give them a call to make sure they fit the message that their website and GMB have been sending. You will know in a few minutes whether the office is the right one for you.